As summer approaches, the Inn at the Quay, nestled in the heart of New Westminster, gears up to provide an unparalleled summer vacation experience. Our waterfront location boasts views of the Fraser River and downtown skyline, creating an enchanting backdrop that captures the spirit of New West in all its resplendent glory. From our balconies, you can witness the vibrant hues of summer sunsets or the peaceful mornings when the first rays of sun dance upon the river. This picturesque scenery makes us an idyllic destination for summer vacationers.
With summer comes the season of al fresco dining, and the Inn at the Quay doesn't disappoint. Our on-site restaurant, The Boathouse, offers a fresh, seafood-centric menu featuring the best of the West Coast. Enjoy your meal while taking in panoramic river views. We also highly recommend exploring the local dining scene, which is a melting pot of international cuisines, artisan breweries, and quaint coffee shops.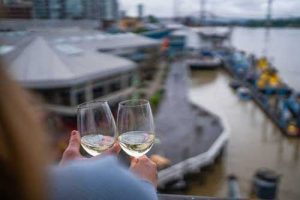 We believe in creating experiences, not just accommodations. As the summer breeze wafts through New West, bringing with it a sense of new beginnings, we invite you to join us for a season of fun, relaxation, and memorable moments. Our friendly staff is ready to help you make the most of your summer in the best place in New West.
Pack your bags and let us create the perfect summer escape for you at the Inn at the Quay. Where the river meets the sky, where history meets modernity, and where relaxation meets adventure – that's where you'll find us, waiting to welcome you.